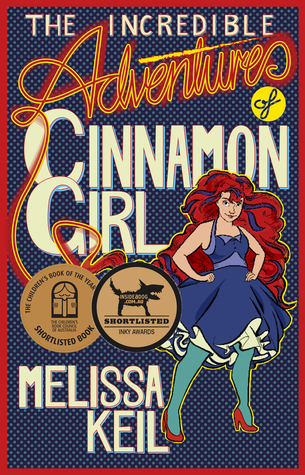 Title: The Incredible Adventures of Cinnamon Girl
Author: Melissa Keil
Rating Out of 5: 5 (I will read this again and again and again)
My Bookshelves: Contemporary, Contemporary romance, Young adult
Dates read: 9th August – 30th September 2019
Pace: Medium
Format: Novel
Publisher: Hardie Grant Egmont
Year: 2014
5th sentence, 74th page: How symbolic.
Alba loves her life just as it is. She loves living behind the bakery, and waking up in a cloud of sugar and cinnamon. She loves drawing comics and watching bad TV with her friends.
The only problem is she's overlooked a few teeny details:
Like, the guy she thought long gone has unexpectedly reappeared.
And the boy who has been her best friend since forever has suddenly gone off the rails.
And even her latest comic-book creation is misbehaving.
Also, the world might be ending – which is proving to be awkward.
As Doomsday enthusiasts flock to idyllic Eden Valley, Alba's life is thrown into chaos. Whatever happens next, it's the end of the world as she knows it. But when it comes to figuring out her heart, Armageddon might turn out to be the least of her problems.
This was my last unread Melissa Keil book on my shelf. And I tried to stretch out reading it as much as possible… I just love her writing way too much. And my plan to stretch things out worked reasonably well… for the first quarter, but then I got sucked in (as always) and ripped through it. After all, these are the sweetest, most heart-warming books I've read in a long time. The fact that they're set in Australia just helps to make it that much better.
I'm from a rural area of Australia, not as small and secluded as the Eden Valley in this story, but many of the idiosyncrasies of small town Australia life are incredibly familiar in this tale. Especially when it's partnered with the idea of the end of the world, the gullibility of the masses and the power of social media. The setting itself worked as another character, one that was slightly insane and seriously intense.
Melissa Keil's books are always a great coming of age story. One which, whilst it features a romance, is more about realising who and what we are. So far all three have taken place around the end of high school – a moment in our lives when we're not sure who and what we want to become. Since being in that position, I've had many "standing on the edge of a cliff" moments, but finishing high school was the first of these. The shorter time frame of this story and the way in which it explores making future decisions reminded me of all those moments in which I wasn't sure about what my future decisions should be… the ending of this tale helps to give you a sense of happiness (in that Alba and her friends have taken their first steps into the adult world), but it also is open enough that you feel like their lives are just beginning.
I found the love story in this incredibly sweet. I didn't quite guess which boy would end up with Alba until much later in this book. Because it felt more about their friendship and their love and respect for one another. This is the perfect friends to lovers story. It's a great reminder that some of the best relationships are built on a solid foundation of friendship and respect. This is the book that you should read if you want to feel at peace with the world and finish with a huge smile on your face.