Fan Fictions by Gabrielle Zevin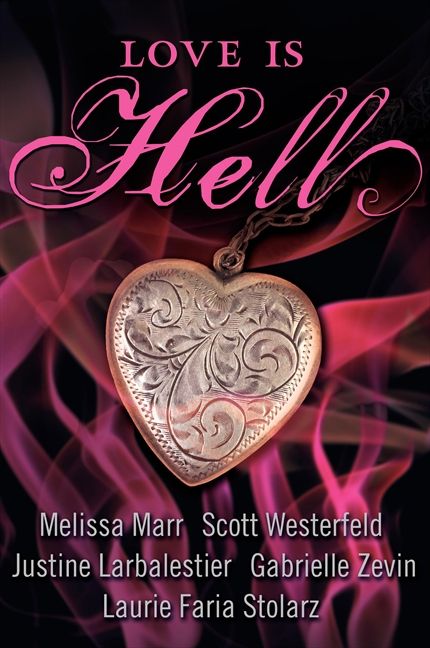 Title: Fan Fictions
Author: Gabrielle Zevin
In: Love is Hell ( Melissa Marr, Scott Westerfield, Justine Larbalestier, Gabrielle Zevin & Laurie Faria Stolarz)
Rating Out of 5: 4 (Really good read!)
My Bookshelves: Mental health, Paranormal romance, Young adult
Dates read: 19th September 2019
Pace: Slow
Format: Novella
Publisher: Harper Teen
Year: 2008
5th sentence, 74th page: Honestly, I'm worried about you.
Paige is invisible. And ordinary. Someone who nobody notices. Until Aaron. But now she's not sure if he's real or just a figment of her imagination…
At one point or another, we all feel like we've been overlooked in high school. Or at least, everyone that I know feels that way… but this story took that feeling to a whole new level. And kind of a whiney one. I really liked the concept, and loved the writing (hence the four-star rating), but I seriously had to take a star off for Paige's down right insanity…
Although I'm a complete bibliophile, and tend to have some insane dreams about what I'm reading… I've never taken on the persona of a book that I'm reading. Never felt those lines begin to blur as I take on a reality that is far more enjoyable than my own. Probably a good thing, considering I read a lot of stories with some incredibly messed up protagonists. But I have had moments when I've wished that more of my life could be like that in the stories I read.
From the title of this story, I wasn't really expecting this kind of tale. I was expecting something with a character who actually writes fan fictions. But, in hindsight, I suppose that taking on the storyline that you're reading is exactly what fan fictionists (is that even a word?) are actually striving for. After all, they're generally writing a fan fiction so that they can immerse themselves into a world that someone else has created, and they're just not really ready to leave… and what avid reader hasn't felt that way?
Book Review Love is Hell Mental health Paranormal Romance Young Adult