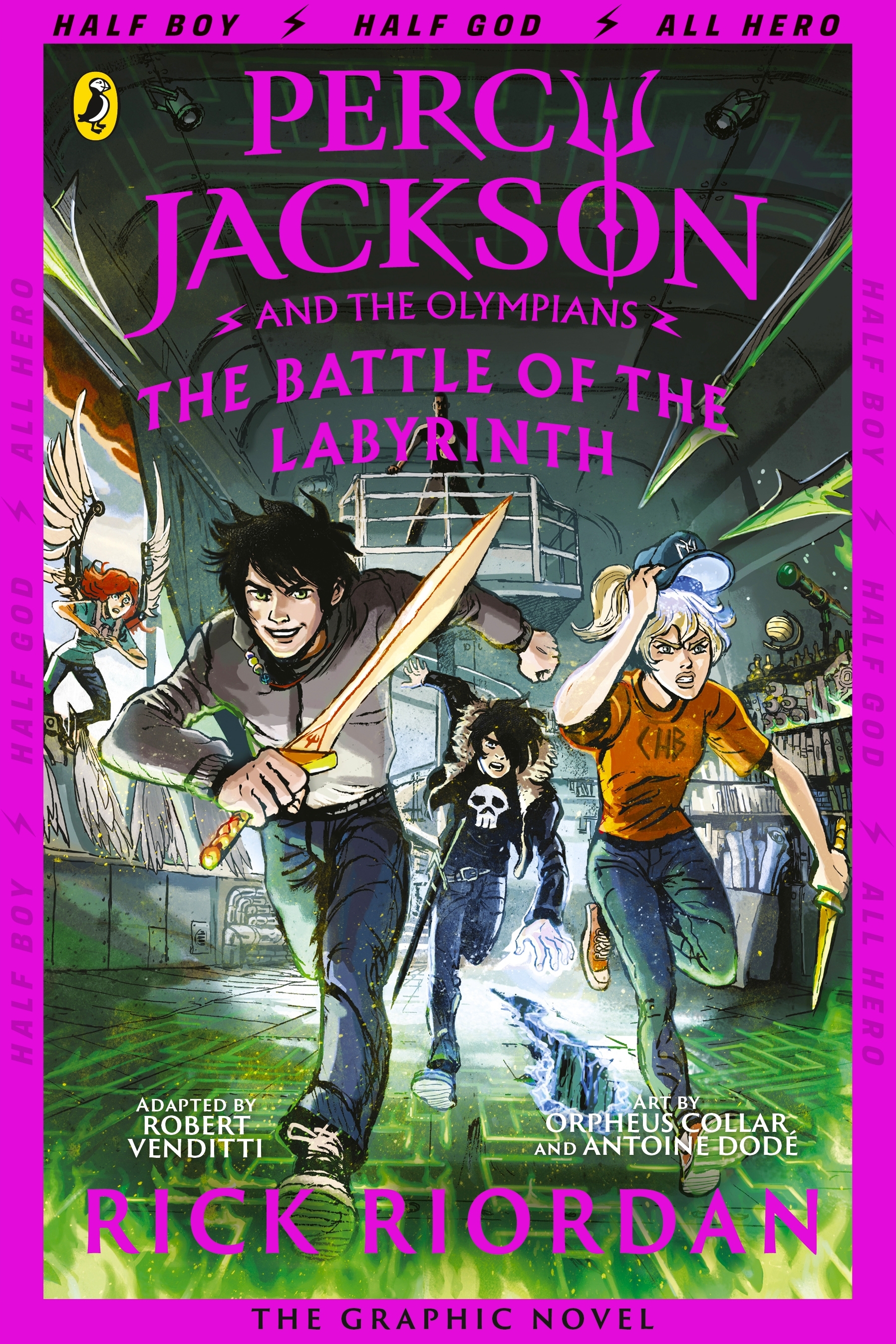 Title: The Battle of the Labyrinth – the Graphic Novel
Author: Rick Riordan & Robert Venditti
Series: Percy Jackson and the Olympians – the Graphic Novels #4
Rating Out of 5: 4 (Really good read!)
My Bookshelves: Graphic novels, Greek mythology, Urban fantasy
Dates read: 28th June – 4th July 2019
Pace: Medium
Format: Graphic novel
Publisher: Puffin
Year: 2018
5th sentence, 74th page: That's why the Titans' army is after it.
Honestly, blowing up another school was the last thing I wanted to do.
As the son of a Greek god, I've had my share of near-death disaster – and now my arch-enemy Luke wants to invade camp via an ancient labyrinth.
If he succeeds, thousands of bloodthirsty monsters will attack. So it's 'Goodbye, sunshine; hello, darkness' as four of us descend into the terrifying underground and beyond…
It took me a little longer to get into this graphic novel than the first three in the series. I don't know if it's maybe because I just didn't originally like this storyline as much (it mostly just sets up the final battle), or if I picked it up at an inconvenient time. But, regardless, it took me a fair bit longer to read than a graphic novel usually would. Although, once I got past the first part / chapter, I didn't stop.
There was a lot of information in the original novel, and a lot that was missed out in the graphic novel. But Venditti and Riordan managed to work this perfectly. I didn't feel like important aspects were skipped out on, but rather, wondered why I enjoyed them so much in the novel. There was a great flow and pace to the storyline as you sink into the depths of the labyrinth and hope for the best with Percy and all his friends.
One of the parts of this graphic novel that stuck with me was the panels which showed Annabeth, Percy, Grover and Tyson walking through the labyrinth. Each panel has a different background to the characters and I thought that this showed the tricky, everchanging nature of the labyrinth perfectly.