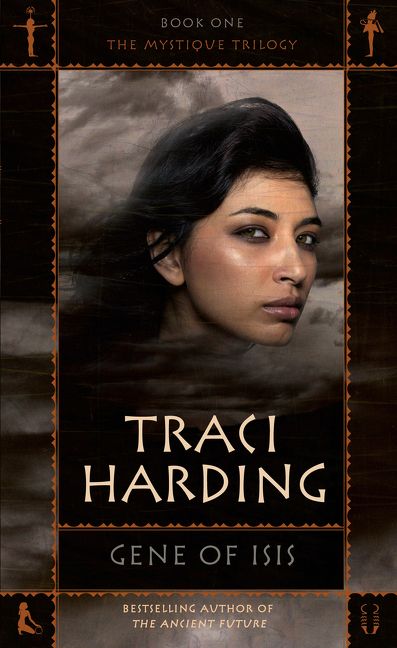 Title: Gene of Isis
Author: Traci Harding
Series: The Mystique Trilogy #1
Rating Out of 5: 5 (I will read this again and again and again)
My Bookshelves: Historical fiction, Science fiction, Strong women
Dates read: 4th – 12th February 2019
Pace: Slow
Format: Novel
Publisher: Voyager
Year: 2005
5th sentence, 74th page: Her gown, like mine, was long-sleeved, and in accordance with the latest fashion was completed with short white silken gloves.
A heartstopping race to unlock the secrets of the grail bloodline…
Mia Montrose is a 21st century Australian woman with a Doctorate in Ancient Languages who has just scored the most promising job of her career.
Ashlee Granville is a 19th century clairvoyant forced to suppress her talents as she enters the marriage market of English upper-class society.
Lillet du Lac is a 13th century Priestess of an ancient order now protected by the Cathars, who are making their last stand against the Roman Catholic Franks at the giant hill fort of Montsegur.
Truth and deception, love and desire, the Cathars and the Church, the Templars and the secrets of ancient Egypt – all play their part in a grand adventure touched by the possibility of a genetic key to immortality…
I haven't read this book in a very, very, very long time. As in probably not since high school. When, to be honest, a lot of the intricacies of this storyline went a little over my head. So reading this amazing, amazing novel for the second time when I have much more knowledge… well, it was an absolutely awe inspiring treat. One that I was incredibly sad when it ended… so luckily there are two more intensely complex stories in this trilogy.
There are not many stories in which I appreciate having a dual timeline. Mostly I find that they tend to be a little clunky and I'll become highly attached to one character, which means that I tend to get annoyed and frustrated when the timeline flicks. However, I felt equally drawn to all three women in this storyline. They had distinct journeys and personalities that were all impossible to walk away from. They each had their own struggles which mirrored each other, but also managed to be completely distinct. Not an easy trait judging from all of the stories which I've disliked due to their dual timelines.
One of the things I've always loved about Harding's work is that the leads are always Australian, and more often than not, strong women in their late twenties and early thirties. The age that I'm currently at. I love anything that utilises Australian culture in an honest and open way. So the fact that Mia, who most of the story ends up revolving around is Australian, from an English heritage… well, there is a lot that I have in common with her. Which, of course, makes it all the more difficult to put down the storyline, even when jumping across centuries and continents.
There is an insane amount of complexity in this storyline. Not just because of the time jumps and three parallel timelines. But also because of the intricate ties between religion and philosophy. Science and spirituality. Harding manages to tie so many pieces of reality together in a way that feels completely plausible and realistic. It makes it all that much harder to return to reality when you turn the very last page of this story.
| | |
| --- | --- |
|  <- The Black Madonna Review | The Dragon Queens Review -> |