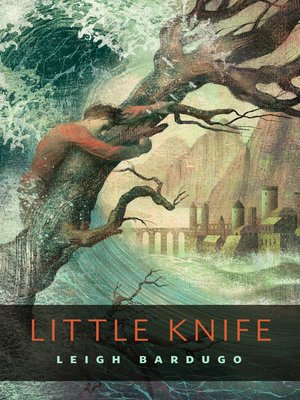 Title: Little Knife
Author: Leigh Bardugo
Series: The Language of Thorns (Leigh Bardugo)
In: Grishaverse Companion
Rating Out of 5: 5 (I will read this again and again and again)My Bookshelves: Easy reading, Fairy tales, Fantasy, Illustrated
Pace: Slow
Format: Short story
Publisher: Imprint
Year: 2014
5th sentence, 74th page: She was so beautiful, in fact, that the midwife attending her mother snatched up the wailing infant and locked herself in a linen closet, begging for just another moment to gaze upon Yeva's face and refusing to relinquish the baby until the duke called for an axe to break down the door.
In this third Ravkan folk tale from Leigh Bardugo, a beautiful girl finds that what her father wants for her and what she wants for herself are two different things.
It is a companion story to the third book of the Grisha Trilogy, Ruin and Rising, and the stories "The Witch of Duva" and "The Too-Clever Fox."
I thought this was going to be very traditional-feeling. The overlooked suitor keeps on trying for the beautiful, rich bride. He gets help from an unpredictable source (in this case a river), and after completing task after task, he finally triumphs. That is until you remember that this is one of Bardugo's fairy tales and they aren't going to be like this at all.
One of my favourite recurring moments throughout is "it wouldn't have happened if they just asked her what she wanted". And it honestly reminded me of all the times that what I wanted / said / needed felt like it went ignored. And I remembered that most young women have probably felt the same – prized for their beauty / standing / whatever and had their wants and needs ignored. It was certainly the issue that I had in all of the Grimm Brothers fairy tales that I've read recently…
Little Knife is a wonderful story with (in my opinion) a happy ending. It is a great reminder that marriage, and social standing aren't everything. It is about not taking things for granted, and not thinking that you own something just because it has helped you. Everything, everyone has a spirit and it is far better not to trap them… in case the worst should happen.