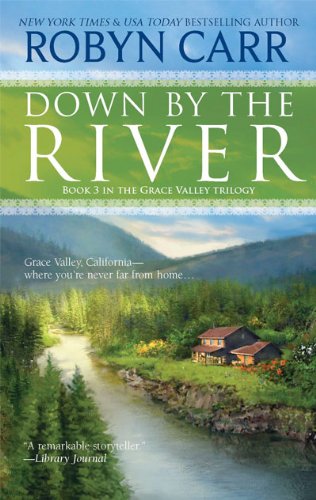 Title: Down by the River
Author: Robyn Carr
Series: Grace Valley Trilogy #3
Rating Out of 5: 5 (I will read this again and again and again)
My Bookshelves: Contemporary, Contemporary romance
Dates read: 23rd – 24th March 2020
Pace: Medium
Format: Novel
Publisher: Mira
Year: 2003
5th sentence, 74th page: That's the half of it.
IN THE PEACEFUL TOWN OF GRACE VALLEY, NEIGHBORS ARE LIKE FAMILY – AND JUST AS MEDDLESOME, TOO.
June Hudson is the town's doctor, a craing, capable woman who now has a bit of explaining to do. People are beginning to notice the bloom in her cheeks – and the swell of her belly. Happily, DEA agent Jim Post is back in June's arms for good, newly retired from undercover work and ready for new beginnings her in Grace Valley.
Expecting the unexpected is a way of life in Grace Valley, and the community is overflowing with gossip right now. Who is the secret paramour June's aunt Myrna is hiding? Does the town's poker-playing pastor have too many aces up his sleeve? But when dangers, from man and nature, rise up with a vengeance to threaten June and the town, this community pulls together and shows what it's made of. And Jim discovers the true meaning of happiness here in Grace Valley: there really is no place like home.
I loved this conclusion to the Grace Valley Trilogy. Everything has come full circle and June gets her happily ever after. It was a great way to spend the day… reading this while I had a serious migraine and really couldn't stomach the idea of moving. There is just something inherently sweet and cute about Carr's writing and, with this trilogy focusing on just the one woman and the town that she loves… that feeling of sweetness just increased.
From the blurb of this story, I was kind of expecting a whole lot more conflict throughout this story. Something a little more dangerous from Jim's past maybe. That really didn't happen, but I wasn't disappointed. There were still challenges and dangers. Still things that needed to be overcome. But they were a little more innocent and it made this such an uplifting, heart-warming series conclusion to read. After turning the final page, I seriously considered jumping online to buy another few Robyn Carr books, but you know… money.
I love that the Mills (who are introduced in the first Grace Valley Trilogy book) make more than a bit of an appearance throughout this. There are so many secondary characters throughout this whole series which make an appearance, and it isn't until the final book that you realise they've been popping in and out all the way through. In the best, most subtle way possible. It was really nice that there was closure to not only June's story, but also the stories of the other characters that I quickly came to love over the two, three days that I just devoured this trilogy. I absolutely adored this novel. I adored this trilogy. It had enough suspense and turmoil to keep me hooked, but not enough that it destroyed the happy-feeling that it all inspired. There is a great balance between action and sweet romance. Difficulties and solutions, heavily geared towards the happily ever after feelings. I'm so glad that I have these books on my shelves. And I look forward to reading them again and again and again.