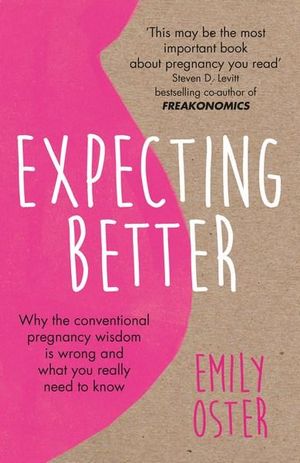 Title: Expecting Better
Author: Emily Oster
Rating Out of 5: 3.5 (Liked this)
My Bookshelves: Medical, Non-fiction, Pregnancy
Dates read: 17th August – 25th September 2021
Pace: Slow
Format: Non-fictional text, Novel
Publisher: Orion Spring
Year: 2013
5th sentence, 74th page: In one study the miscarriage rate was 4.4 percent for women under 20, 6.7 percent for women 20 to 35 and almost 19 percent for women over 35.
Award-winning economist Emily Oster debunks myths about pregnancy to empower women while they're expecting.
When Oster was expecting her first child, she felt powerless to make the right decisions for her pregnancy, so she drew on her own experience and went in search of the real facts – by using an economist's tool.
In Expecting Better she overturns standard recommendations for:
alcohol
caffeine
sush
bed rest
miscarriage
induction
She also puts into context the blanket guidelines for antenatal testing, weight gain, risks of pregnancy over the age of thirty-five, and nausea, among others.
This was an incredibly unique take and spin on the whole pregnancy thing. Most of the time it out and out disagreed with what we see as the conventional wisdom. And, whilst I may not agree with everything in this, I was most definitely intrigued with the ideas and discussions set forth.
Although I didn't necessarily agree with everything in this book, I did love how the evidence was presented. That, and the fact that as Oster pointed out, everyone has different cost / benefit analyses and so should be equally educated. It also made me feel better about the little bit of caffeine I consume every week in my one or two coffees… that alone made me incredibly happy.
I also loved that throughout this Oster used numbers to weigh up the evidence. I may not be great at doing statistical analysis, but I am good at understanding it and using this to weigh up my decision making. In fact, there's been a few more controversial topics / decisions in my pregnancy which have used pretty much the same system.
All in all, I found this to be a very, very worthwhile buy. As I said, there were some things I just didn't agree with, but as Oster points out, she looked at the numbers and made her decision. I (or her friends) look at them and make another choice. It certainly made me feel a lot more settled and comfortable in my pregnancy decision making.