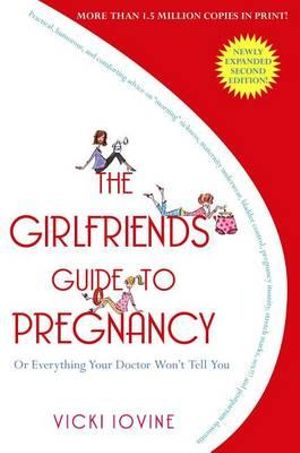 Title: The Girlfriend's Guide to Pregnancy: Or Everything Your Doctor Won't Tell You
Author: Vicki Iovine
Rating Out of 5: 4.5 (Amazing, but not quite perfect)
My Bookshelves: Humour, Non-fiction, Pregnancy
Dates read: 17th June – 3rd July 2021
Pace: Slow
Format: Novel
Publisher: Pocket Books
Year: 1995
5th sentence, 74th page: Second, save the home births, midwives, and underwater deliveries for second, third, and fourth babies.
YOUR DOCTOR GIVES YOU MEDICAL ADVICE. YOUR MOTHER BUYS YOU BABY CLOTHES. BUT WHO CAN GIVE YOU THE REAL SKINNY WHEN YOU'RE PREGNANT?
Your Girlfriends, of course – at least, the ones who've been through the exhilaration and exhaustion, the agony and ecstasy of pregnancy. Four-time delivery room veteran Vicki Iovine, "the Carrie Bradshaw of pregnancy" (Wall Street Journal), talks to you the way only a best friend can – in the book that will go the whole nine months for every mother-to-be. Now, in this newly revised and updated edition, get the lowdown on all those little things that are too strange or embarrassing to ask, practical tips, and hilarious takes on everything pregnant.
What Really Happens to Your Body – from morning sickness and gas to eating everything in sight – and what it's like to go from being a babe to having one.
The Many Moods of Pregnancy – why you're so irritable / distracted / tired / light-headed (or at least more than usual).
Plus, the latest scoop on…
Staying Stylish – You may be pregnant, but you can still be the fashionista you've always been (or at least you don't have to look like a walking beach ball) – wearing the hippest designers and proudly showing off your bump.
Pregnancy Is Down to a Science – from in vitro fertilization to a scheduled C-section, the latest technology provides so many options, alternatives, and tests, it can all be downright confusing.
… and much more! For a reassuring voice or just a few good belly laughs, turn to this straight-talking guide on what to really expect when you're expecting.
So obviously I read this because I'm pregnant and, me being me, I need to know everything I possibly can about what what expect. But, I also didn't want to read something that was preachy. This book was the perfect fit. It was funny and light in places, serious in others. And, it highlights the fact that we all experience pregnancy differently, there is no right or wrong way and it's about getting through it sane!!
Unlike some of my other books, this isn't split into the different times in pregnancy (week, trimester, etc). Instead, it's split by topics. I particularly liked the section on exercise since I've been feeling guilty for not exercising as much as I used to. Iovine helped me to feel so much less guilty about it all.
I love that whilst you get Iovine's own experiences. You also got those of her friends. She CONSTANTLY points out that everyone has a different experience. I think its something seriously important, and she also points out that you get to be a little selfish and insane at times…
All in all, I loved this book. And will probably refer to it multiple times throughout my pregnancy. It's that comfort of having a friend say nope, you're not nuts… but at any time of day or night whenever you need it… and it would be inappropriate to ACTUALLY call your girlfriends.