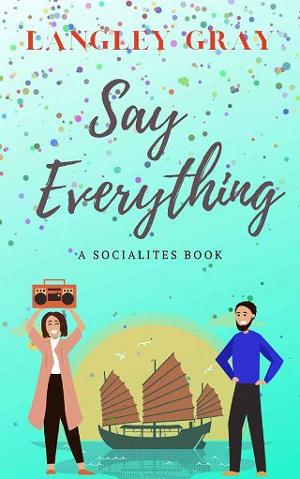 Title: Say Everything
Author: Langley Gray
Series: The Socialites #4
Rating Out of 5: 4.5 (Amazing, but not quite perfect)
My Bookshelves: Chic lit, Contemporary, Contemporary romance
Dates read: 26th May – 20th June 2021
Pace: Medium
Format: Novel
Publisher: Langley Gray
Year: 2021
5th sentence, 74th page: He's funny, laid back, intelligent, and a great listener.
WILL A MISTAKEN IDENTITY LEAD TO LOVE?
Iris Mortimer, heir to a shipping empire, is a new ex-pat in Hong Kong. She agrees to a blind date only because, well, she's bored and maybe a tiny bit lonely. When Bryan Harris arrives, she's pleasantly surprised – he's not the stuffy white-collar type she anticipated.
Both new to the city, the two embark on an exploration of all the best tourist spots. She's recovering from a past relationship, he's focused on his research, so no pressure – right?
What neither realizes is that there has been a serious mistake in identity, both were meant to meet other people with the same name. When their true selves are accidentally revealed, Bryan realizes he can't be with Iris. But by now, she's fallen for him.
Will their mutual love of 80's rom coms help keep them together?
Find out as Iris Says Everything to get him back.
This is one of those series and authors that I only just, very recently found. And I'm completely hooked. Say Everything is a great finish to this quartet. And whilst Iris and Bryan aren't my favourite couple of the series… they're still completely adorable.
I love the whole fate / serendipity feeling of the Meet Cute in this novel. I mean, the likelihood of two people meeting up and accidentally mistaking them for one another… its honestly kind of ridiculous. Which made it THAT much more adorable and fun. Then off on a fun whirlwind… one that I really wasn't expecting if I'm being honest.
I'm always a fan of a story that features a scientist in the lead… I spent years working in the field, so I feel a kind of kinship. The connection that this never fails to make for me just left me smiling harder and harder as the story unfolded. Particularly as Bryan shares his strong opinions on marine issues… my Facebook is filled with likeminded people, and it definitely helped me to connect even more.
I'm not going to lie, whilst this wasn't my all time favourite of The Socialites novels (that honour falls to The Flyaway Bride), I did love the ending. That final ditch effort to make things work bought a tear or ten to my eye. And I had the pleasure of finishing this book with a gigantic smile on my face.