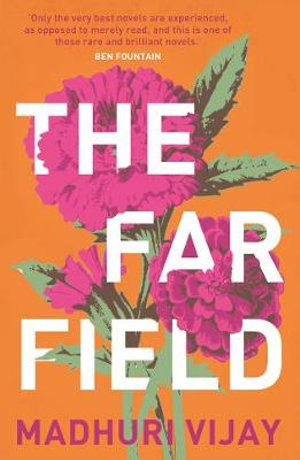 Title: The Far Field
Author: Madhuri Vijay
Rating Out of 5: 4 (Really good read!)
My Bookshelves: Contemporary, Historical fiction
Dates read: 16th May – 10th June 2021
Pace: Slow
Format: Novel
Publisher: Grove Press UK
Year: 2019
5th sentence, 74th page: And so, just like that, my days were barren again.
In the wake of her mother's death, Shalini, a privileged and restless young woman from Bangalore, sets out for a remote village in Kashmir. Certain that the loss of her mother is somehow connected to the decade-old disappearance of Bashir Ahmed, a charming Kashmiri salesman who frequented her childhood home, she is determined to confront him. But upon her arrival, Shalini is brought face to face with Kashmir's politics, as well as the tangled history of the local family that takes her in. When life in the village turns volatile and old hatreds threaten to erupt into violence, Shalini finds herself forced to make a series of choices that could hold dangerous repercussions for the very people she has come to love.
This is one of those books that I know I'll be returning to. Multiple times. With gusto. I loved the writing and the way that Vijay pulls you in from the very beginning. But I also know pretty much nothing about the history, politics and culture that take centre stage in this culture. So the whole experience of The Far Field was an education.
It's not often that from the first sentence you are irreversibly drawn in and intrigued by the politics and such. There was just something about the opening line that made me sit up and pay attention. And I don't physically fix my posture out of intrigue with books. Ever really.
I always love a good story with a flawed and growing protagonist. The voice of Shalini ticked all of my boxes. She's on a fairly intense journey and you most definitely feel for her even as you kind of get frustrated with some of her choices. I particularly enjoyed how relatable she was, even though I'm from a starkly different background – it was still possible to feel connected.
All in all, as much as I loved the story and the message and everything about the book. It was the tone and style of writing that made me fall in love. I couldn't take my eyes off Vijay's words. She has such a talent and I would be intrigued to read more.