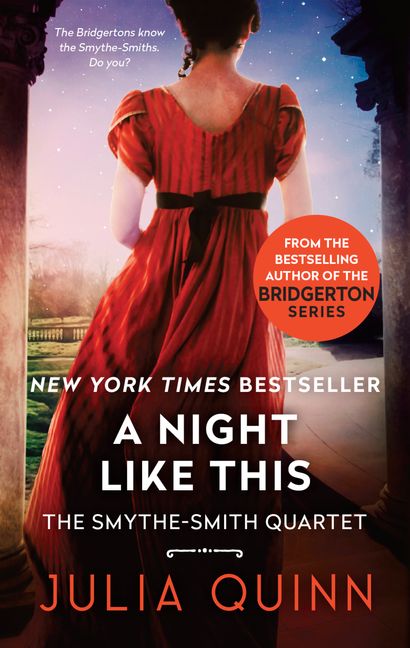 Title: A Night Like This
Author: Julia Quinn
Series: Smythe-Smith Quartet #2
Rating Out of 5: 5 (I will read this again and again and again)
My Bookshelves: Historical romance, Regency romance
Dates read: 11th – 18th May 2021
Pace: Medium
Format: Novel
Publisher: Avon
Year: 2012
5th sentence, 74th page: She saw only him, watching her as if she were the only woman in the world.
ANNE WYNTER MIGHT NOT BE WHO SHE SAYS SHE IS…
But she's managing quite well as a governess to three highborn young ladies. Her job can be a challenge – in a single week she finds herself hiding in a closet full of tubas, playing an evil queen in a play that might be a tragedy (or might be a comedy – no one is sure), and tending to the wounds of the oh-so-dashing Earl of Winstead. After years of dodging unwanted advances, he's the first man who has truly tempted her, and it's getting harder and harder to remind herself that a governess has no business flirting with a nobleman.
DANIEL SMYTHE-SMITH MIGHT BE IN MORTAL DANGER…
But that's not going to stop the young earl from falling in love. And when he spies a mysterious woman at his family's annual musicale, he vows to pursue her, even if that means spending his days with a ten-year-old who thinks she's a unicorn. But Daniel has an enemy, one who has vowed to see him dead. And when Anne is thrown into peril, he will stop at nothing to ensure their happy ending…
As with all the Julia Quinn books in my shelf. I loved this. Quinn just has such an amazing talent for sweeping you away to a happy, content world that you know everything will turn out well in.
This story reminded me a little of the Benedict Bridgerton story in that it is a man falling for a woman below his station. And he happens to glance at her at a society event, and become instantly infatuated. The similarities do stop here though, for which I I glad.
I love how aware Anne is of how wrong things can go and how she is constantly trying to make Daniel see sense… it works brilliantly well. And it feels a little more realistic. I mean, this is a Regency romance, so it's not exactly going to be realistic regardless… but it does make it feel a little less far fetched I suppose.
Daniel and Anne are a fun couple, and the villain they have to face in this is a lot more evil and intimidating than any Julia Quinn book so far. This, combined with the constant awkwardness of Harriet and her younger sisters had me smiling throughout. There was a great sense of lightness to match that feeling of horror that the villain lent
A fantastic novel that let me float on a happily ever after for a while. One that I will definitely read again.
Image source: HarperCollins Australia