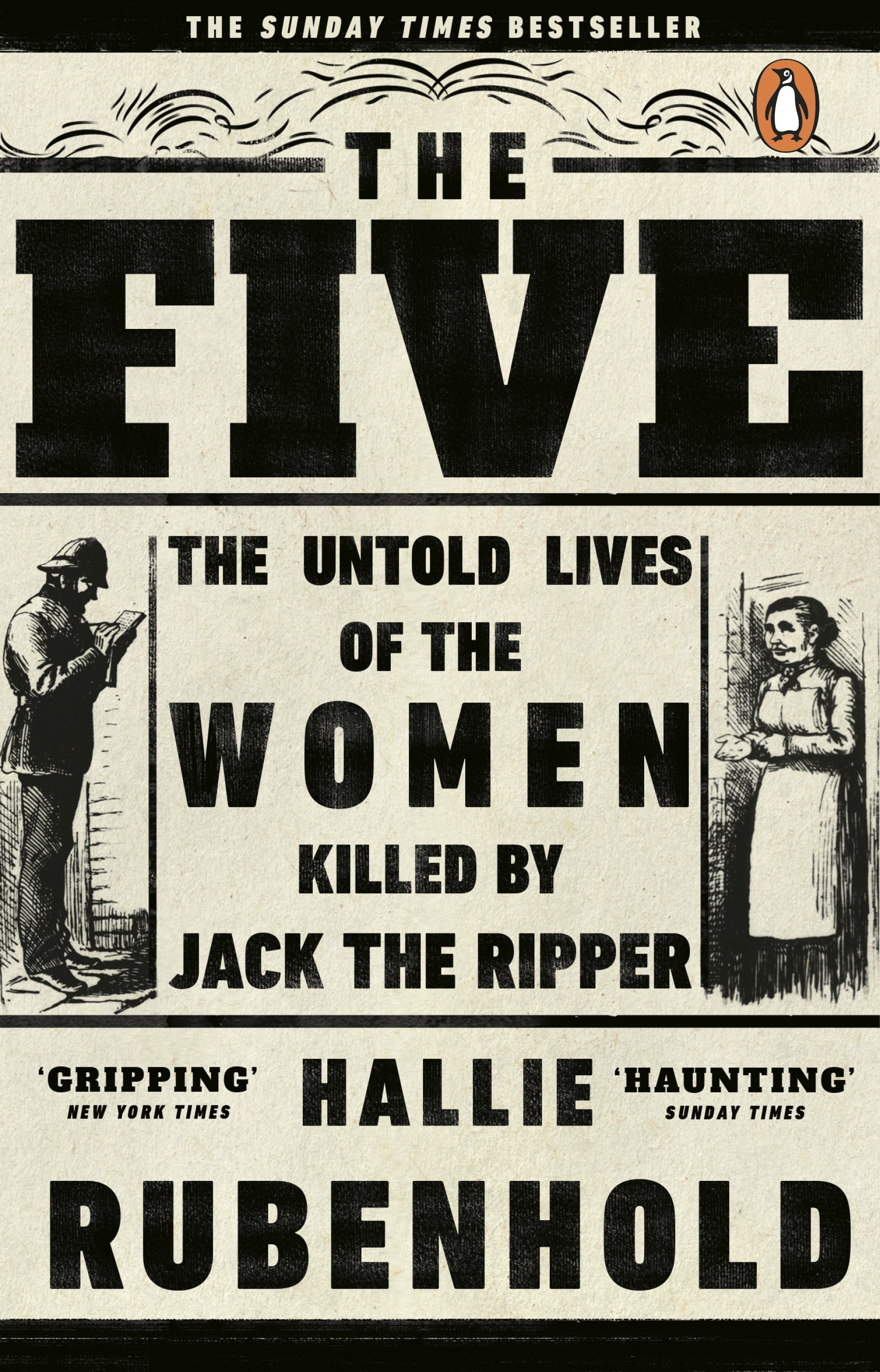 Title: The Five: The Untold Lives of the Women Killed by Jack the Ripper
Author: Hallie Rubenhold
Rating Out of 5: 5 (I will read this again and again and again)
My Bookshelves: Feminism, History, Non-fiction, True crime
Dates read: 23rd April – 8th May 2020
Pace: Medium
Format: Non-fictional text, Novel
Publisher: Black Swan
Year: 2020
5th sentence, 74th page: On 16 April she was dispatched like a human parcel to Renfrew Road Workhouse.
Polly, Annie, Elizabeth, Catherine and Mary-Jane are famous for the same thing, though they never met. They came from Fleet Street, Knightsbridge, Wolverhamption, Sweden and Wales. They wrote ballads, ran coffee houses, lived on country estates, they breathed in ink-dust from printing presses and escaped people-traffickers.
What they had in common was the year of their murders: 1888.
Their murderer was never identified, but the name created for him by the press has become more famous than any of these women.
IN THIS DEVASTATING NARRATIVE OF FIVE LIVES, HISTORIAN HALLIE RUBENHOLD FINALLY GIVES THESE WOMEN BACK THEIR STORIES.
This is a seriously intense, wonderful, powerful, amazing book. Like. Wow. I've recently become a little intrigued by Jack the Ripper, but, as with many others, I hadn't really given huge amounts of thought to the women that he actually killed. Which I now feel kind of ashamed of. Because Rubenhold reminds us that these five women were, you know, people too. And should be remembered as such. Not for the way the died. Not for the way the media portrayed them. But for individuals in and of themselves. Women who loved, lost and experienced life. Women with families, husbands, children…
I tend not to read crime books before bed. It leads to some seriously whacked out and trippy dreams. Starting this, I figured that it would be okay to read before bedtime. After all, it's about the women, not the murders. For starters, the introduction talks about Jack the Ripper a little more than I had wanted. And the last point made is that he didn't kill prostitutes, he killed women while they were asleep. By themselves. I was a woman. By myself. About to go to sleep. Not exactly conducive to a restful nights' sleep that.
Normally I like to pick up biographies because they're not only informative, but they're also incredibly easy to put down. That's not the case with this novel. The first few chapters didn't quite hook me, and I was completely able to put down the book whenever I needed to be productive. However, once I passed that point… I just couldn't stop thinking about these five women. I couldn't stop wondering about their lives, their loved ones. What they thought and experienced in their mysterious last moments… I just couldn't stop thinking about it all!!! Which I think was the whole point of it… but still, not exactly my normal response for a biography…
I am still in awe of what I've read. I actually finished this book twenty-four hours before sitting down to write this review. And it took me so long to do so simply because there is an intense feeling that you get once you turn that final page. This intense feeling of not only wonder and amazement at what you just read, but also, for me at least, a sense of guilt. I'm fascinated by murders, but I have rarely seriously considered the Ripper women as individuals and women. Which is something I will endeavour to do more so of in the future. When I started this book, I couldn't even remember the names of The Five. But now, I don't think I'll ever forget them…
| | |
| --- | --- |
| <- The Covent Garden Ladies | Harris's List of Covent Garden Ladies -> |