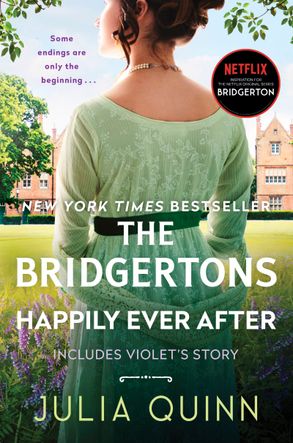 Title: Romancing Mister Bridgerton: The Second Epilogue
Author: Julia Quinn
Series: Bridgertons #4.5
In: The Bridgertons (Julia Quinn)
Rating Out of 5: 5 (I will read this again and again and again)
My Bookshelves: Historical romance, Regency romance
Dates read: 7th March 2020
Pace: Medium
Format: Short story
Publisher: Avon
Year: 2007
5th sentence, 74th page: "There really wasn't an appropriate time."
We can't really say more without giving away a big, fat spoiler, but it turns out that Colin is a bit of a meddler, Hyacinth is more of a meddler, and the only time all of the Bridgertons stop talking at once is when Penelope has something really embarrassing to say. Hey, we never said it was easy to marry a Bridgerton, just that it was fun.
This wasn't quite the epilogue that I was expecting. I had kind of thought that it would be much further into the future than it was (or at least further than the initial epilogue). And, I didn't expect it to centre so much on Eloise and Penelope's friendship.
Not that that's a bad thing. Sometimes the most surprising moments are the ones that you enjoy the most. Sometimes it's those small glimmers that make you go wow. I didn't know that I needed this. And this second epilogue was kind of like that.
I can't really say much in this review without giving away one of the big wow moments in Romancing Mister Bridgerton, but I can tell you that this is a great story. It highlights the Bridgerton relationships in a much more pointed way. It's also made me love Eloise and Hyacinth even more. There is just something about these two meddlesome, troublemaking sisters that makes me grin like a maniac. Who wants a boring family anyway?