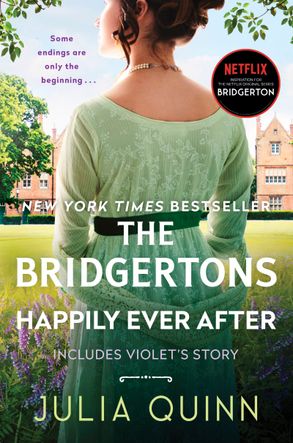 Title: An Offer from a Gentleman: The Second Epilogue
Author: Julia Quinn
Series: Bridgertons #3.5
In: The Bridgertons (Julia Quinn)
Rating Out of 5: 5 (I will read this again and again and again)
My Bookshelves: Historical romance, Regency romance
Dates read: 5th March 2020
Pace: Fast
Format: Short story
Publisher: Avon
Year: 2001
5th sentence, 74th page: "She said that Mr. Fibberly called."
Did you wonder what happened to Posy after she finally stood up to her mother? Did she finally find her own happily ever after? Find out in this second epilogue.
At the end of An Offer from a Gentleman, all I could think was "I hope that Posy gets her happily ever after". After all, she tried to be a good sister to Sophie for years. And, ultimately, stood up for her at the detriment of the possibilities of her own future. Which all made me exceedingly happy when I started the first sentence of the second epilogue…. And found out that it was about Posy.
Sophie and Benedict do make an appearance throughout this short story. Which is good, because it's nice to know that a few years after their marriage, they are still happy and have a few boys to show for their nuptial delights. But, mostly it's about finding Posy her own happily ever after.
I love that lightning strike, infatuation at first site moment that happens when Posy does find her true love. I love that Sophie and Benedict thought to set them up because he has a nice smile. And, I love that although Posy is finally happy in and of herself, she still has some issues of self image. Mostly through her eating habits. It shows that the damages of her childhood don't miraculously disappear, but they do diminish and let her, too, have her happily ever after.