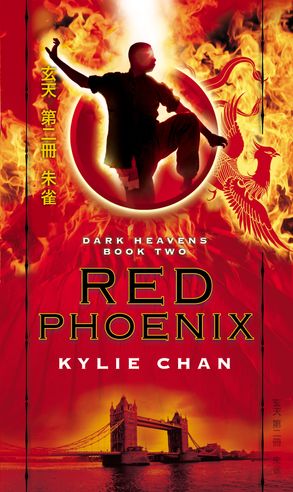 Title: Red Phoenix
Author: Kylie Chan
Series: Dark Heavens Trilogy #2, Dark Heavens #2
Rating Out of 5: 5 (I will read this again and again and again)
My Bookshelves: Australian authors, Chinese mythology, Demons, Gods
Dates read: 3rd – 9th December 2019
Pace: Fast
Format: Novel
Publisher: Voyager
Year: 2007
5th sentence, 74th page: We moved the Wudang Academy from the Mountain to here in Hong Kong.
IMMORTALS, MARTIAL ARTS, GODS AND DEMONS
The intrigue deepens as the demon threat closes around mortals and gods alike…
When Emma Donahoe took the position of nanny to John Chen's daughter Simone, she never expected to be caring for the child of a Chinese god, and she didn't expect that demons would want him dead. Nor has moving from nanny to partner in his heavenly realm made Emma's life any easier.
Now a powerful race of demons has been created to hunt her and her family from Hong Kong to Europe. And she and Simone have become targets – pawns to be used in a deadly celestial power play.
It's been a long time since I read this. And now I'm remembering why Dark Heavens is one of my all time favourite series. I think that come the new year (since my TBR starts again at the turn of the year) this will be the first series I sink my teeth into. There is just an amazing style, writing and storyline to this story. It is intense, fast-paced and filled with a great sense of humour. Which, since Chan is an Australian author, it's the kind of humour that I love and recognise.
I picked this up in the week that I was not only feeling a little sad, but I was also feeling really, really sick. Normally I read a booka day, plus get all of my work and housework sorted. Yet, I've barely been able to pick up a book. So sinking myself into the world of Emma, John, Simone and their incredibly off-centre family was the perfect anecdote for my horrible week. There's nothing like a well-loved story to help pick you up.
I knew it from White Tiger, but Red Phoenix highlights how truly insane Emma is. I'm all for doing anything in the name of love… but what she does and gives up in the name of her love… I actually can't fathom that. Which of course, makes this a brilliant book because it takes me to places that I would never willingly go myself (even though it's actually not possible… but you get my drift). I also love that she is so loyal. Everything she does is in honour of the people she treasures. That part I can actually completely understand.
This is the book in which Michael first joins the family. He's such a great addition to the storyline, and, if memory serves me (it's been a long time since I've read the books), he becomes a really powerful character within the storyline. The web of family, relations and loyalties is getting more and more complex, and this is exactly why I love this series so much. The connections between the modern world and the mythical. And the relationships between father and son, father and daughter, so on and so forth.